[vc_row][vc_column width="1/1″][vc_column_text]
Getting a knee injury when skiing is a rather  common.   A friend  injuried his knee when skiing by dislocating his knee cap  (patella) skiing in France.  The Doctors immediately took x-rays and gave him a full leg brace.    His knee was hugely swollen so taking my advice he iced it regularly for 10 minutes every hour using the free ice snow from outside.   The swelling reduced and he walked carefully around with his knee brace and I gave him simple safe isometric knee exercises to try to stop the quadriceps from atrophying or wasting.  He had dislocated his patella and here is Everything you Need to know about Patella Dislocation Video 
He managed some light skiing on his last day with a strong knee brace wrapped firmly around his knee particularly to keep strengthen his knee muscles
The patella is the protective bone which is also well known as the knee cap lies in front of your knee joint. It is attached to the Quadriceps muscle through the quadriceps tendon is enables the quadriceps muscle to straighten the knee  The knee cap lies within the Patellafemoral Groove   This groove allows the patella to the move normally up and down in from on your knee joint while you straighten and bend your knee.  Dislocation of the patella occurs from the patella sliding laterally out of its position on the knee.  It can occur from a blow to the knee, acute trauma, or severe twisting of the knee.   In the most of the cases dislocation is associated with pain, swelling and a lump on the lateral side or outer side of the knee.The patella with normally usually relocated by itself as you slowly and with much pain straighten your knee.   If it is possible it is important to have a plain x-ray to check for other boney fragments as soon as possible and an MRI Scan which reveals which ligaments may be ruptured or partially ruptured and any other damage to the structures of the knee.   As you can read below here Professor Nicola Maffulli immediately had this patient MRI scanned that morning and booked him in for Rehabilitation of his Quadriceps.
He was seen by Professor Nicola Maffulli who is considered one of the world best sports-injury surgeons, and works here in London four weeks later.  By this time most of the swelling has greatly reduced and he was walking reasonably well and started some simple squats to strengthen his knee muscles.  Professor Nicola Maffulli was able to arrange a MRI scan immediately as he was at the BMI Private Hospital and later on that morning he read the MRI scan with my friend which revealed that his Vastus Medialis has completely wasted away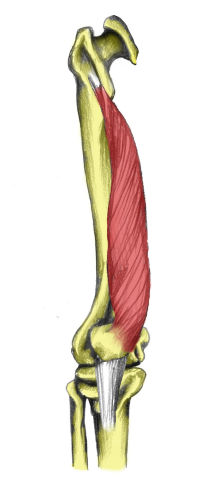 Compex's revolutionary and exclusive muscle intelligence technology, which emerged from our research laboratories, automatically adjusts stimulation parameters to suit the physical characteristics of each user. The result of this personalised system is greater comfort for the patient and greater treatment efficiency.
| | |
| --- | --- |
| | |
| Mi-Sensor | Mi-Sensor usage |
REHABILITATION EXERCISES
YOUR LEVEL OF REHABILITATION EXERCISES WILL DEPEND UPON HOW MUCH PAIN AND HOW LONG THE BRUISING OF THE KNEE JOINT BONES LASTS BEFORE YOU CAN START PROPER REHAB IN THE GYM ON THE EXERCISE MACHINES.
1.  While the ligaments, swelling, bruised bone and soft tissue damage are healing you cannot use weight machines and this is where Compex Rehab, therabands, stretch bands can be used regularly if possible 4 times a day.
2.  Body Squats are essential please watch this excellent video good technique in body squats which will work your core muscles, keep your gluteals working at the end of the squat as your rise up again BUT ONLY GO DOWN TO YOUR OWN PERSONAL COMFORTABLE LEVEL .   REMEMBER THE BONES , TENDONS, LIGAMENTS, AND WITH SWELLING THE FLUIDS SWITCH OFF THE STRENGTH IN YOUR QUADRICEPS AND YOU WILL FEEL YOU HAVE WEAK LEGS.   THIS WILL MAKE YOU LOOSE YOUR BALANCE SO YOU MUST IF YOU FEEL INSECURE HOLD ONTO SOMETHING OR DO THE SQUATS HALF WAY DOWN AGAINST A SUPPORTIVE WALL.
HERE IS THE EXCELLENT VIDEO SQUAT  BODYWEIGHT TUTORIAL 
Helen How, Registered Osteopath, 14 Craighall Gardens, Edinburgh EH6 4RJ
0131 551 1044
MOBILE  AND   text  07889304762
MRI Scans can be arranged for £199.00 via Alliance Medical
Please Read these reviews as it is important if you are making an appointment to see Helen    Edinburgh Online and Google reviews.   Helen using Osteopathy Cranial Osteopathy and modern Physiotherapy Electrotherapy trained by Cliff Eaton from Better Perform and by attending Professor Tim Watson`s Conferences.   You can see videos of your condition so you understand more about management and self care .
Consultation and Treatment £35.00 for One Hour
Helen is part of the Bupa Health Care Agreement and all the following Private Health Care Insurance Policies
[/vc_column_text][/vc_column][/vc_row]