There are many reasons for stress fractures in the lower limb which should be read and studied and this is not going to be gone into on this case study
This track and field athlete was in training and only felt an ache in his left foot, This is nothing unusual when training so regularly, as there are many aches and pains that develop in the foot. Often tendon pain is common So the athletes will often put the stone to being tendon pain. In this case we were treating him for another reason with the focus shockwave, so one applied 0.02mj/mm Of focused shockwave however this caused him considerable pain so we urgently referred him to the foot surgeon. The foot surgeon immediately arranged an MRI scan and here is the MRI scan.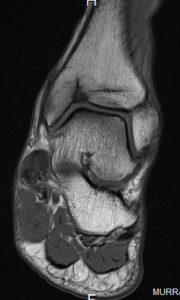 Alkhawashki(2015)- SWT for Fracture Non-Union.
Haffner(2016)- SWT for Tibial Non-Union